Salon de Belleza Merida | Robert Abuda Hair Salon de Belleza Merida is located at 470C Paseo de Montejo and Calle 39. 999 926 3015 in Merida's Hotel Zone in Merida, MX.  Our Top-Notch team of Hair and Beauty Stylists offer a variety of hair and beauty services in Merida, in the Yucatan Peninsula in the South of Mexico. We offer Men's as well as Women's Hair Cuts, Colors, Highlights and Balyage. In addition, Makeup, Eyelash Extensions, Manicures and Pedicures are all part of the services we provide. As a result of it's being a top hair salon in Merida with a prime location, makes Robert Abuda Salon the best choice in Merida.
Consequently, the team at Robert Abuda Salon are Merida's Beauty Experts.
Furthermore, we import our favorite products from the USA, Canada, and Europe.  As a result, our hair and beauty stylists are able to obtain much better results. 
Therefore, only the best products are used at Robert Abuda Salon. In addition, ROBERT ABUDA SALON IS CURRENTLY THE ONLY CERTIFIED MINKYS EYELASH EXTENSION BEAUTY SALON IN MERIDA! www.minkys.com.
We are also an exclusive retailer in Merida for Moroccan Oil and Olaplex.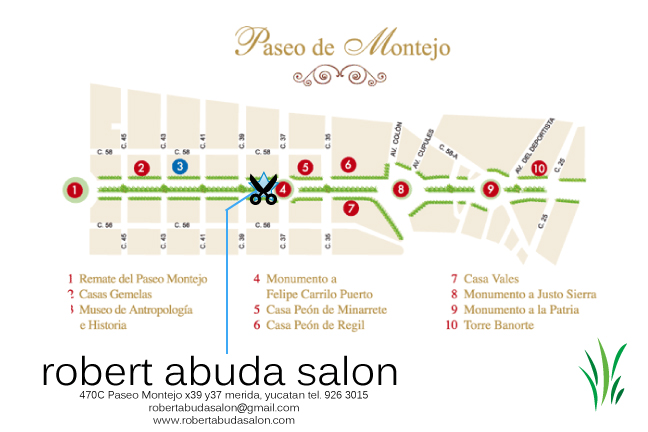 Robert Abuda | Hair Salon Merida Owner & Hair Stylist

Hair Salon Merida Owner, as well as Hairstylist Robert Abuda, has lived in Merida, Tokyo, and Canada. In addition, Robert's passion for color makes him an expert in achieving the right shade, tone, and depth of color for you and your lifestyle. Our philosophy is that everyone leaves our hair salon in Merida feeling Beautiful, Confident, and most of all, Ready to Step onto the Runway.  In Addition, Robert has also worked with a number of top clients including most recently Red Foo from LMFAO.

Finally, Ria S. says: "If you're looking for someone who does GREAT BLOND HIGHLIGHTS, Robert Abuda is your man! A good indicator of a great stylist is not how good their models look in their ads, rather how good they can make us mere mortals look.

Unfortunately, it is very difficult to find a good hairdresser here in Merida. Furthermore, finding a hair stylist who can do blond highlights well is even harder in Merida!  Well, Rob did just that yesterday when he added some sorely needed color to my hair. Because of this passion, Robert Abuda does not disappoint!"

Angie | SR. Stylist


Angie is one of our Senior Hair Stylists as well as an accomplished Makeup Artist.  Besides Hair and Makeup, she also does relaxing, unforgettable manicures and pedicures.  Furthermore, she is a true professional and it shows in her work.  As a result, her precision hair cuts and colors make her a popular choice among our clients.

In addition, a recent client of Angies's says, "Thank you for getting Molly and Rob in today. As a result, we are very happy with the haircuts and I'll be back to get one for myself!

So, please let her know we thought she did a terrific job

!"

Marifer | Manager

Marifer is our Hair Salon Merida Manager as well as our resident Photo/Video Stylist. In addition, MariFer works hard to ensure our clients have the best possible experience in our salon. She is also responsible for our Social Media Presence and Online Marketing.

Annie | JR. Stylist

Finally, Annie is completely bilingual in Spanish and English as a result from moving to Merida from Veracruz 10 years ago with her family.  In addition to being fully bilingual; Annie is also an expert MakeUp Artist and Estetician. Furthermore, Annie is also studying Hair Styling, Coloring, and Cutting.  Consequently, we are thrilled to have her on our team.